Notepad++
Publisher:
Don HO
License: Open Source
(2 votes, average: 4.50 out of 5)
Notepad++ is one of the best open-source software to edit and manipulate source code. It is developed based on the Windows operating system by Don Ho, a software engineer with too many great applications under his name.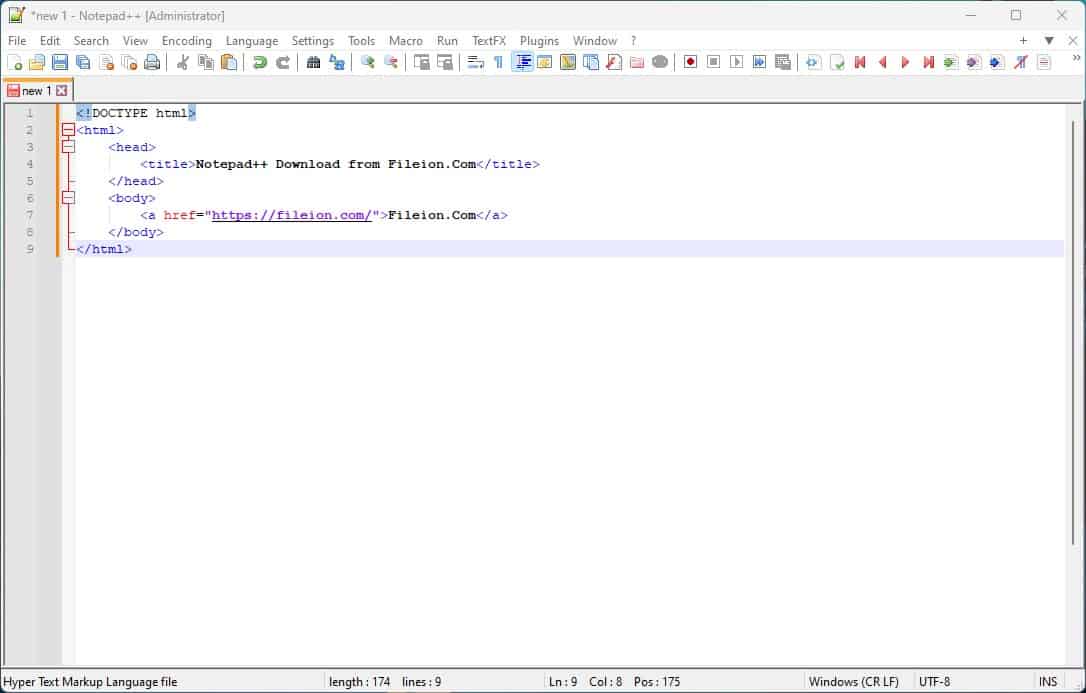 Table Of Contents
Pick which you want to save your time
Screenshots & Videos
Latest Screenshots and Videos
The more image and video you see about Notepad++, the more you will understand and know it
First Slide
First Slide
Pros & Cons
Advantages and Disadvantages
Brilliant performance with full syntax and source-code editing
Rapid speed with a good level of detail and highlighting
Bookmarks and macro recording
Easy to configure and customize
Not available on other OS directly
Hard to find large limits with ease
Compared to IDE, the features are somewhat limited
Review
Our Review About Notepad++
Being one of the great text & source editors you can find, it's hard not to like it at first glance. Its minimalistic interface intertwined with the awesomely intuitive functions are definitely the most highlighting feature of this editor.
Diving a bit deep into the interface, it's evident almost instantly that Notepad++ is just not your average text editor. It can go further than you usually expect from a simple text editor and more.
Performance
First of all, Notepad++ is more capable than people give credit for. Because of its powerful Scintilla editing component, Notepad++ can deliver instantaneous results without any hiccups. Moreover, It's completely written in C++ (if you hadn't figured it out already, this is the reason why the name has a ++ in with it) and uses Win32 API and STL.
Another great thing I noticed while using this text editor is that it constantly updates my routine to provide better optimization which is always a plus.
User & Eco-friendly Design
Seems odd to see those two words side by side right? Well, the whole interface definitely caught my attention the moment I started editing some basic source code from GitHub. So, that's already a great start. But what amazed me the most is the eco-friendly initiative Notepad++ has taken in the background.
While many word processors can take too much energy on usage, Notepad++ throttles the CPU power so that the energy consumption is significantly reduced. Thus, resulting in a more habitable and sounder environment.
Language Support
If I were to highlight the most crucial factor of Notepad++ then it has to be its overwhelming language support. Other than supporting C++ programming language, it has additional support for Java, JavaScript, XML, Python, CSS, HTML, Ruby, Pascal, Visual Basic, and more.
If you're a developer like me, then this one source code editor would be more than enough for you. At least you won't have any objections about not supporting your preferred programming language.
Customization & Plugin Support
Apart from being one of the most power-efficient and lightweight editors available, it delivers heavily on customization and plugins. From changing its appearance, fonts, and theme to installing additional plugins to integrate your other workflow seamlessly is easily a steal.
For me, it has been a breeze playing with the software in my spare time because it offers so much in such a small package. I changed my theme to dark with a tint of cyan which blends perfectly with my overall Windows theme.
Also, the plugins are completely customizable as well. I could easily change the check the current versions of installed plugins and their compatibility.
So, I definitely found the plugins and customization function pretty neat.

Testimonials
User Reviews on Notepad++
Get to know what users and other popular sites are saying about Notepad++
FAQ
Frequently Asked Questions
Notepad++ is primarily designed for the Windows operating system. While there are workarounds and third-party solutions available to run it on macOS or Linux, the official version and support are limited to Windows.
Yes, Notepad++ provides various customization options. You can personalize the editor's appearance by selecting different color schemes, adjusting font styles, and configuring the overall visual layout to suit your preferences.
Yes, Notepad++ supports a wide range of plugins that extend its functionality. These plugins can provide additional features, such as version control integration, code snippets, advanced search capabilities, and support for other programming languages.
Yes, Notepad++ allows you to work with multiple documents within a single window. It provides a tabbed interface that lets you easily switch between open files, a split-screen view for comparing or editing different sections of code, and synchronized scrolling for efficient navigation.
Tags
People also search for this app as
notepad
notepad tricks
nf notepad
notepad nf
learn notepad
what is notepad
notepad plus plus
notepads
notepad 64
notepad app
html notepad
Articles
Articles related to Notepad++
These are the articles which is writen by us or contributed by other writers
Currently, no articles are available. But we will add some soon. Thank you for staying with us.